Your Trusted Source

Since 1911
Committed to Customer
Service for
3 Generations.
Gerald is accommodating, excellent, customer service, polite, professional, and listens to the customer

"I recently had a water heater installation done by Broadleys; the technicians were Justin and Phil and I couldn't be happier with the service. From start to finish, the entire process was smooth and efficient. The technicians arrived promptly and were extremely professional throughout the installation.Not only did they do an impeccable job with the installation itself, but they also took the time to explain the new system to me, ensuring I understood how to use it efficiently. The attention to detail was impressive, and they left the area clean and tidy.Moreover, the pricing was fair and competitive, and there were no hidden fees or surprises. This company truly delivers on its promises of high-quality service and transparency.I highly recommend their services to anyone in need of water heater installation or any HVAC replacements. Their professionalism, expertise, and customer-focused approach make them stand out in the industry. Thank you for a job well done!"

It was time for my heater maintenance, and I was delighted to see that David Creek was here, to work on my heater..He gets right to work, and always explains what he's doing..He is so personable, and is always kind to my animals, dogs and cats..Im very glad I have the maintenance plan, because I rarely will get any unexpected bills..Thanks Broadleys and David!

Our service man was prompt, efficient and polite. He did what he needed to do and accomplished his task very quickly.

Technician, Geoff S, was on time, competent, knowledgeable

Recently had a plumbing service call with Geoff He was professional courteous and knowledgeable and had us repaired same day! Thanks Geoff!! Broadleys Loyal Customer

David C. was excellent. He took the time to explain what was causing the issues and walked me through potential solutions while performing a tune-up on my HVAC system. Thank you!

I called for a repair and Geoff was at our house 30 minutes later. He was professional and knowledgeable and offered real world advice for our plumbing issues. We have used Broadley's for years and will Continue to do so.

Albert and Geoff are an exemplary employees! I highly recommend Broadley's.

Had a small leak in the kitchen Brian came out the same day I called and took care of it very quickly. Great company to deal with highly recommended.

My pro, David Creek was on time, neat and efficient. I am pleased with Broadley's service.


We have used Broadley's more than a few times. Their service is always better than expected. Their personnel are all outstanding.

Finally a company that was not only helpful but professional. Justin and Phil, the installers, worked a full 3 days, in this heat, and did a marvelous job. Thank u guys it was a pleasure.

Very nice, professional, early and explained everything.

My thanks goes out to John and Geoff for their quick response to my urgent request I made over the Labor Day weekend. A problem I thought I had with my a/c unit was not the case, it was a broken water hose connection. Thank God for their knowledge and expertise.

Great experience Yancy, Brian, and Albert ran up and down the stairs looking for my issue which they found.

The technician was prompt and courteous. He explained everything he was doing and answered all the questions that I asked. I am always happy with their service.

5 star friendly work done timely matter

Had Geoff come out to do a tankless "flush out" as preventative maintenance. He was great! Knowledgeable and professional. Answered all of my questions and gave me some good insight into the tankless water heater system which I wasn't too familiar with. Definitely plan to use them again.

Very polite and nice to deal with. They were able to schedule me right away. The Tech called prior to coming as well as showing up on time. He figured out the problem right away, fixed it and the price was very reasonable. Everything you want in an HVAC company.

David arrived quickly, was very professional and polite and quickly diagnosed what was going on

Came out the same day to help us with a clogged toilet and shower drain. Brian and Albert were professional, timely, & courteous. Would absolutely use them again.

I own a house in Ocean City, NJ and my renter informed me that the kitchen sink was clogged. Brian from Broadley's took care of it this morning promptly, called me to explain everything-problem solved. Very reliable, effective company.Note: Last week, I failed to submit a review, but Broadley's also came and took care of a problem with my Air Conditioning unit. Again-same result-prompt, professional, courteous and solved the problem. So, now I've used Broadley's twice in two weeks for completely different problems, and they will be my first choice going forward! Thank you!

Brian was professional, and thorough. He helped us determine the source of the pipe coming from the house that was cracked and leaking. He repaired it quickly. I would not hesitate to call Broadley's again with any plumbing needs!

Great service and friendly staff

Work done in a professional way

Today we had David from Broadley's in for annual HVAC service and to check or AC on the 1st floor. He was on time, polite and explained everything to us. He left the area spotless on top of that. Thanks!

Brain was very professional and responsive he immediately isolated our issue and promptly fixed it. it was a pleasure having him in our home

Brian did a great job repairing the broken water pipe in my crawl space. On time..professional..worked quickly and answered all my questions. Would absolutely call again if needed.

Had great service. They were fast, friendly, professional and explained everything.

Broadley's responded to our plumbing issue within hours of calling. The guys they sent were terrific. We even threw in 2 more small issues that they gladly took care of. Great experience overall.

Technician Henry arrived on time on a very busy Friday afternoon. He confirmed my diagnosis, and took care if the stopped up condenser drain in my A/C unit no problem! He also offered some good maintenance tips to keep this from happening ever again. He was very professional and knowledgeable.

Had a new AC unit installed. Arnold and Tony did an EXCEPTIONIONAL JOB! Both were experienced in their field. Courteous and professional! The hottest day of the summer, and they worked through it all! Many thanks. Also to Mark, the sales coordinator who made it happen quickly and efficiently. I have used Broadleys for many, many years GREAT company who always puts customers first. Thank you!

Professional experience great rappore and easy to work with

Our service representative was on time, very professional and fixed our problem with our tankless heater in a very timely manner. We have used this company before and we highly recommend this company for the servicing of mini split units, tankless hot water heaters and any other products they service.

A few months ago, I signed up for Broadley's Gold service Plan. It cost about $100 more than the combination of two A/C maintenances and one heater maintenance but it promised a 10% discount on repairs when needed and same day checkout of problems. It was worth every penny.Last night, my A/C unit stopped working. It was late and when I checked it out the air was warm from the vents and the condenser was making a buzzing noise even though the fan was turning.At 8:00 AM this morning, I was on the phone to Broadley's telling them my problem. The receptionist said a service man would visit me this afternoon and call me on his way. Yancy the service man called me at 2:45 PMWhen Yancy arrived about 30 minutes later, I described my problem and he went right to work. Yancy determined my problem and went to his truck where he stocked a universal capacitor that fit several different makes of HVAC systems. No waiting till tomorrow to get the parts. He replaced the part then verified that everything was working properly and the system was back up working again.Thank you Broadley's and Yancy for being efficient and knowing what you are doing. My congratulations for doing your job well.Lou PellegriniStrathmere, NJ

Brian was a very pleasant and professional man and Noel my dog loved him.

Brian was very knowledgeable.I appreciated his extra effort and would highly recommend him and Broadley's!

Jim came to fix my outdoor shower. He was great and hooked up another valve so hopefully the pipe will not burst this winter! I'm definitely going to request him to put in a new expansion tank and relief valve for my heater. Thank You Broadley's andJim!!

Always reliable. Friendly & knowledgeable technicians. Have been using Broadleys for 13 years.

Had major plumbing issue with our stack pipe in our Ocean City property on a Wednesday afternoon and the Broadley's team was very responsive and came out on Friday to complete the repairs in a professional & timely fashion. Great work and we highly recommend them!


Anthony did a great job today. He was punctual, professional, and efficient.

Yancy did an excellent job - clean, tested, and well explained - we are very happy with the results.

Brian and Geoff were a pleasure to deal with! Came on time and did great work. I will be recommending them to friends and family.

Brian from Broadley's was thorough, knowledgeable, professional and efficient! He went above and beyond to evaluate the problems we were having, present a resolution, and fix the issues! Great job! Will be calling again!

David was professional and friendly and patiently answered all of our questions. Highly recommend!

Dave is a very nice young man. So refreshing in these Uncertain times.

Dave was very professional and explained everything thoroughly. Will happily work with him again

Broadley's did an exceptional job on our heating system in a very short amount of time

Great experience, quick response, fixed the problem and arrived when promised. I'll definitely use these guys again.

Anthony was a gentleman and professional. He took care of all our needs. I had a great experience.

Ken arrived on time, was polite, did an honest, professional job, and price was honest/reasonable. After I told him the problem, he knew what he was doing and went right to work! I felt I was in good hands.

Had a broken pipe under the house. Geoff had amazing customer service. He was an awesome technician. Highly recommend this company.

Arnold and Tony recently replaced our furnace and air handler which were over 20 years old. Both individuals were very professional yet friendly and accommodating . They explained what they were going to do and preformed the heater replacement very effectively. I highly recommend Broadley's for all your heating and air conditioning needs. We have been using them for 20 years and they have never disappointed us. Great service company with top notch techs and support staff.

This company is always responsive, and their tech's seem to do a careful job while being polite and helpful.


I will probably use them. Have heard wonderful things about them. Tony who came today for an estimate was very professional and nice.

Geoff Installed Barbecue gas line hook up! Broadleys is the best!

Keano was fantastic figured out what was wrong and save me money from the original diagnostic.

Broadleys is THE place to go for heating and A/C. I trust no one else to maintain and repair my HVAC systems.

Brian was terrific! Fixed my hot water heater but was so polite and friendly!

I was very pleased with the service l received this fall.Appointments were made easily and associates arrived in time scheduled.I would recommend Broadley's to anyone needing plumbing services.

Arnold and Tony did a great job installing my new mini split today. They were quick, cleaned up, and were respectful in my home. Mark from sales was great to work with and we got the job done quick. Highly recommend!

Turning water back on.I have always found Boadley's a company that is a pleasure to work with. They are on time, professional and knowledgeable.

I use Broadleys for all my plumbing needs .They come twice a year for outside water off/on and anything in between throughout the year .Geoff is my favorite plumber ... always prompt, courteous and very knowledgeable . Luv you guys !!

Answered all my questions. He explained what he was doing.

Toilet clogged, ken was efficient and knowledgeable. And professional. Will definately use you again in the future.

great 1 day job on 3 projects: Hose bibs, New valves & shower head raised ( had to cut a new hole via sheet rock and installation of an outdoor shower. Cleaned site and showed up at 8 and were done by 3:30. Shore house is ready for summer 2023 with great new Broadley plumbing amenities!

Called with a plumbing problem and Geoff was at the house a couple of hours later. Fixed a tricky issue, checked to make sure everything was good and was professional throughout. Took a extra minute to explain what needed to be done and why. Much appreciated. Expensive? Competitive. Skilled? Absolutely. Responsive? Immediately.

Had the pleasure of doing business with Broadley's. Paul was fantastic and was very responsive and patient as we went through the planning and installing of a mini split system. Don, Gerald and Enrie were professional installers and while I did not personally meet them, my neighbors did and spoke highly of them all! Thank Broadley's for putting together a super team!

Broadley's completed a plumbing repair in my house successfully and in a very professional manner. I had one length of 70 year old pipe under the bathtub (encased in foam insulation) between a new water/sewer pipe and the bathtub drain after a house elevation. When the tub almost completely stopped draining, I asked Broadly's to fix the problem permanently. They scheduled the repair in a very timely manner and proceeded to install a new line so the tub drains perfectly. The workers were very friendly and they completed the task quickly and efficiently. I've used Broadly's before for toilet problems and I trust them and would call on them again if needed.

As always, Broadleys provided great efficient service installing my new Mini Split AC.

Check Out Our Latest Special!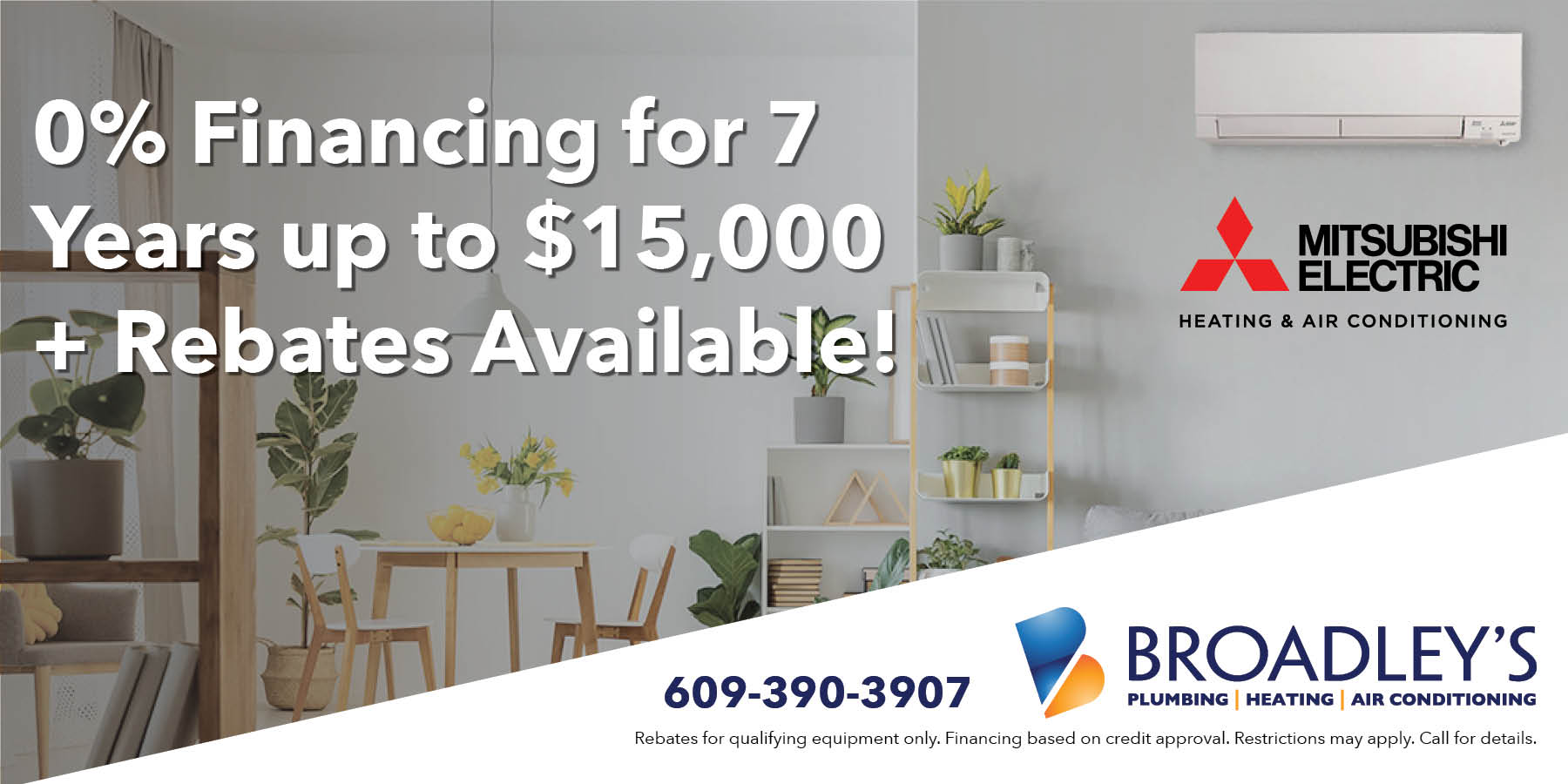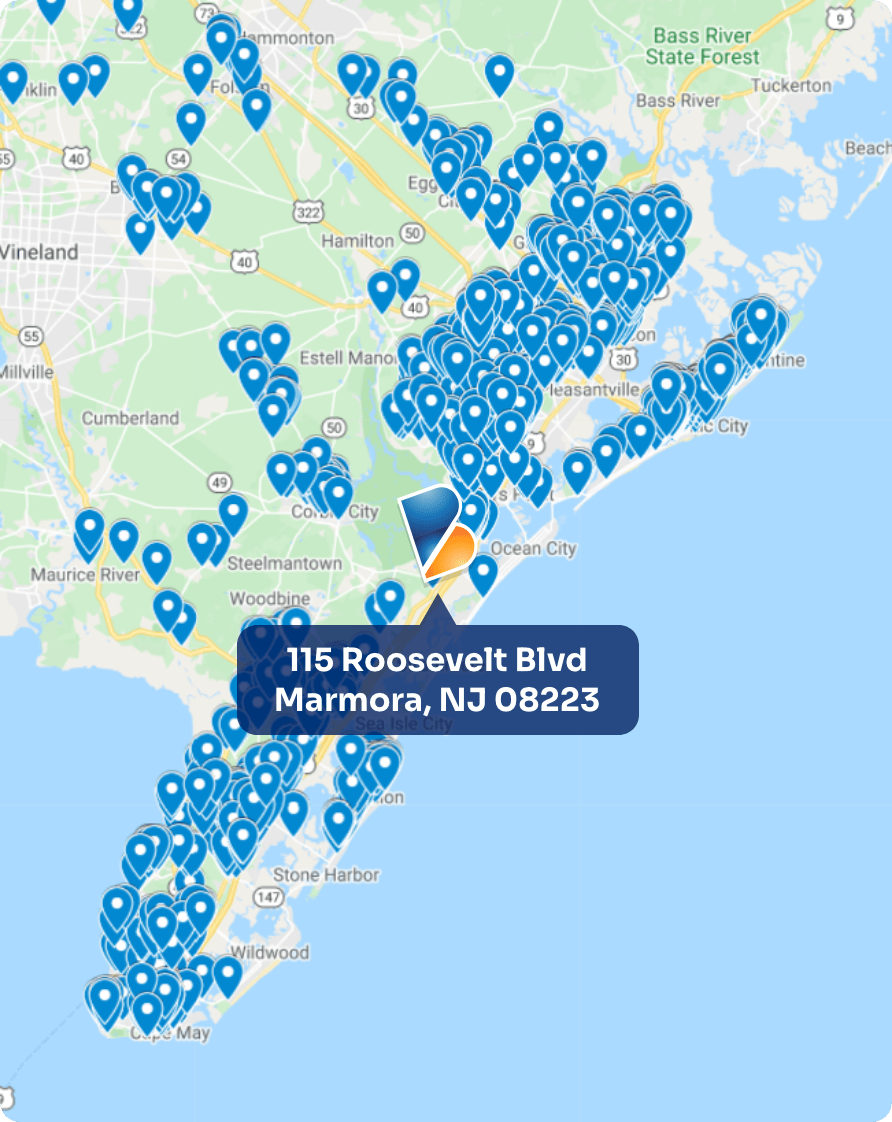 Proudly Serving the Following Areas:
Unsure if we service your area? Give us a call!
Proudly Serving the Following Areas:
Unsure if we service your area? Give us a call!
Repair or Replace?
Our Repair or Replace Tool is a resource to help you determine if repair is the best option or is it time to consider something new. We'll ask you some simple questions to help us learn more about your current system. Depending on your responses, we'll recommend repairing or suggest it's probably time to look at a new home comfort system. If Replace is the best option, we'll show you product choices based on how you answered the questions regarding your home, environment, and family.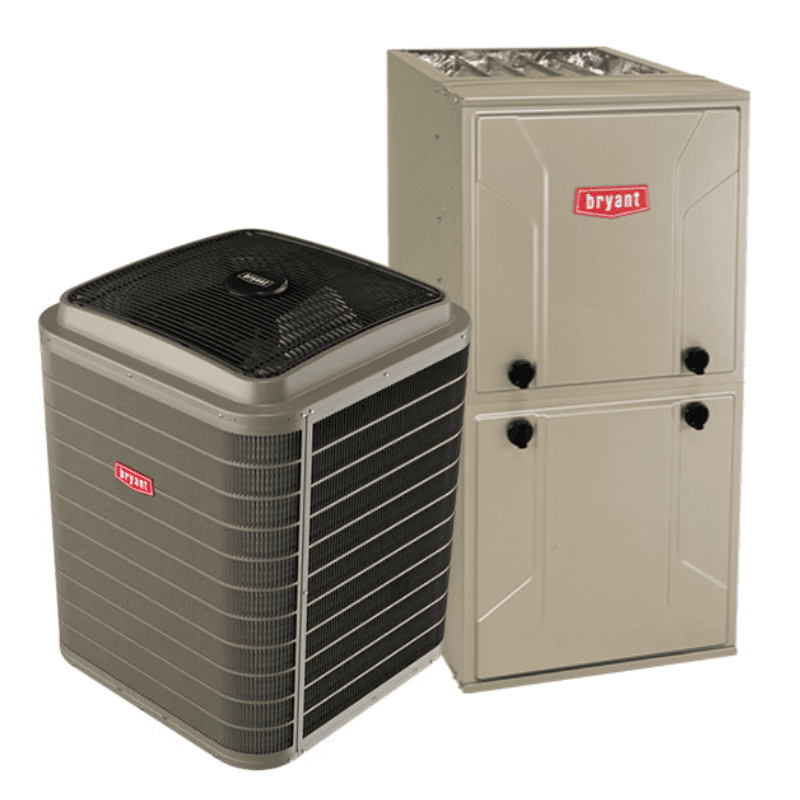 When it comes to heating your home, there are more options now than ever. Replacing a furnace with a heat pump has gained a lot of traction among these options. But why are homeowners increasingly considering furnace replacement with a heat pump? 
Read More