Your Trusted Source

Since 1911
YOUR TRUSTED SOURCE FOR
Plumbing, Heating, and Air Conditioning
Committed to Customer
Service for
3 Generations.
I called Broadley's to replace my blower motor as it was making a loud noise upon startup. The tech, Dave C., who came out to do the replacement was phenomenal he was on time, personable, and very knowledgeable. I appreciate the stellar-service and will certainly call Broadley's for service in the future.

I realized I had a leaking water heater and the Broadley's team was at my house the next morning. After evaluating the situation, it was clear a new water heater was necessary, they provided an estimate, ordered the the new tank and scheduled an appointment for the following day. Geoff and Brian showed up on time any ready to complete the job, which they did. When they arrived, I had an insurance adjuster examining the damage and Geoff/Brian couldn't have been nicer while waiting for him to complete his job. They were very respectful of my home and did a little extra to proactively mitigate any future damage should the tank ever fail again. I've been a Broadley's customer a long time because they are a customer focused organization.

They were courteous and very professional I was very happy

Showed up on time changed up and professional.

I have had several experiences with Broadley's plumbing, all of which were excellent. Geoff is an exceptional technician who is professional and very good at diagnosing and fixing a problem.

I had the pleasure of meeting Eric on Tuesday when he came out on a service call. Our AC wasn't working...he ran some tests and ran a few more but our outcome was we needed a new AC unit...not what I wanted to hear but Eric was so knowledgeable, professional and courteous I completely understood this was our best choice. Really makes a difference when a company has an employee that shows he cares. I'll be requesting Eric to come out when we schedule the service of all our other units. I would give him and Broadley's more stars if I could.

Replaced outside HVAC unit. Did a great job. Were clean and courteous.

The Service Man - Walt Buganski was very professional. He took the time to explain what he needed to do, step by step. Very thorough. Highly recommend Broadleys, as I am sure that all of their Team members are top notch! Thanks again Walt!!!!

I can't say enough good things about Broadley's. This is not our first time calling on Broadley's again I give them 5 stars our of 5 stars. Today, their Technician Walt responded to fix our air conditioner. Response time was fast. Walt explained what he did in detail, and was proactive in taking pictures of unit since it is a very old unit for an estimate on a new unit. I highly recommend Broadley''s

They were on time and worked hard to complete new roof top AC unit in 90 plus degree heat. No complaints and finished same day

We wouldn't call anyone else to do our repairs to keep our business running! Thank you for accommodating us on such short notice so our techs can have a nice place to cool down.

Great experienceSuper friendlySuper knowledgeableSuper fastReally clean install

The service person Walt was excellent

Prompt, professional and great to work with as always!Joe was great to work with on sales end and Don did fantastic job installing.

Thank you to Broadley's for same day service for my a/c. Walt B. was helpful and took the time to answer all of my questions. I was so pleased that I signed up for their annual service for both my a/c and heater.

They are extremely friendly , knowledgeable , and work with you whatever the circumstances may be !! Wonderful Company and employees !! Such a pleasure working with them and if I need them again, they are my go to Company !!! Thanks so much Broadley s !!!!

Not the first time we have used Broadley's - and as always the service was excellent. Everyone was knowledgeable and professional. Work was done on time and fast. Everyone who came to the house was clean and neat - you never would have known they were there. And our new air conditioner works great. I will definitely use them again. It was a pleasure.

Provided excellent repair on pipes and drains. Very informative for future projects.

These guys were awesome, professional, friendly and courteous and knew exactly what to do. They worked from morning till evening. They worked past the normal hours to be sure the job was done in one day. When job was completed they took the time to explain everything they did and to answer any questions we had. Never made you feel rushed.Also you should know Mark Parsons was awesome to work with. He went out of his way to help us understand what was needed. Took time to make us feel very comfortable with our decision.They are each outstanding employees and ones you should be proud of to represent your company.

Geoff arrived promptly and was friendly and professional. The office staff is always friendly and helpful. When we have plumbing or HVAC issues Broadleys is our go to. Will be happy to use Broadleys again.

We had an excellent experience today with Broadley's.Their office manager was able to slot us in right after we requested an appt.The Technician arrived within the hour.Fortunately they had an opening and the Office Manager was quick to help us.The Technician was excellent.Professional, very courteous, knew his trade very well, and fixed something that had been considered unable to fix.We would highly recommend them.

Very good experience. Repairman was very professional. I would use their service again and when I do ask for Geoff to come.

Geoff was pleasant, friendly and efficient. He cleaned up and explained what he was doing. This is his second time here and it won't be his last.

The technician diagnosed the problem, went and got a needed part, replace the bad pressure valve and had me up and running promptly. Done right first time.

Damien and Jason were very professional, polite, and considerate. I would recommend them without pause if someone were to ask me. This is our second time using Broadway.

Had a sewer line back up on a weekend. Broadley's sent two employees within a day to diagnose and repair the sewer line clog. Friendly, professional and honest; I would highly recommend Broadley's as the first and last name for any plumbing needs. Thank you for the quick response!! ⭐️⭐️⭐️⭐️⭐️

Anthony was great, very courteous and knowledgeable!

I have been a customer Broadley's HVAC since 2015. I have found company to be very reliable. They respond on time.i have had both upgraded installation and service and I am very pleased with both service and installation department.My service technician Anthony meets all the qualifications. He is knowledgeable and attentive to servicing our HVAC.Recently I have had two occasions to have Don L and his apprentice Eric do additional installations. New upgraded forced hot air heating unit last March and recently a tankless hot water system.These two men are truly dedicated and knowledgeable in their craft and certainly an asset to Broadley's HVAC company.

Geoff was courteous and efficient. He was very knowledgeable .

Very good experience with Broadley's / Walt.

I use Broadleys for all my plumbing needs .They come twice a year for outside water off/on and anything in between throughout the year .Geoff is my favorite plumber ... always prompt, courteous and very knowledgeable . Luv you guys !!

Have a shower leak and Geoff did all the necessary work to see what was causing the leak, explained everything in detail as to what he was doing and even helped me find a tile repair person. He was courteous and did an outstanding job. Definately a 5 star recommendation.

Got here right on time - Geoff called with an eta. Both Geoff and Yancy were polite, professional and obviously skilled. Finished early! I have shopped around and their cost/value are excellent. Thanks Geoff and Yancy!

Anthony is professional and very pleasant to deal with.

Very professional and courteous

I've used Broadley's services for years. Everyone is professional and pleasant, in particular Geoff and Chris. They're always on time and answer all my questions. I'd recommend them to anyone.

On time and professional would recommend

Starting with our first phone call to Broadley's our experience was great. Joe came out and checked our home and made recommendations as to which heater/air-conditioning system would be best suited for us. We had a couple systems to choose from. My wife and I made our choice and a week or so later our new heater/air-conditioner was installed and doing the job well. The technicians had started the job about 8am and had the installation done by about 2:30pm. They did an outstanding job. Thank You Broadley's. 👍👍

Walt was on time. .Explained everything and got right to work. When he was done, he explained he had put in a different kind of filter and why he did it.Although Walt has never been to my house, he graduated with my daughter!!!!!!! That was a surprise for Walt and my daughgter!

Geoff always provides great service! He's thorough and explains everything that he's doing and why, and I really appreciate that! I will always recommend Broadley's for any heating, air conditioning, plumbing and HVAC needs!

From start to finish it was a pleasure working with the team from Broadley's. Their service was prompt and thorough. Their pricing was competitive and the follow through was superb. The installation process was remarkable and they left my home the way they found it. They took care of everything including the registering of our warranty and applicable rebates. GREAT JOB!!

Always on time. Always professional. Always reliable. A pleasure to work with

I called Broadleys to see if they could figure out what was wrong with my heating system and hot water heater. I was not at the property when Anthony, the tech went over to check it out. He called me on the phone before entering the house to let me know he had arrived. He called me when he was leaving to tell me what needed to be done. He assured me that the house was locked up safely and he was extremely courteous and professional. I look forward to using Broadleys to fix my heater and will keep their number handy for any other issues we might run into in the future.

Great, friendly service from Geoff

Went out of his way to ensure the job was done right. Even came back a day later to finish up a part of the job that was going above the original call. Highly recommend.


Broadley's by far has the best customer service around. They always come when you need them, honest and professional. I've been a client for many years. Today they installed a new furnace and air conditioning unit

Always great service from Anthony . Always on time, polite, and always provides feedback on his service findings. We always ask for Anthony for our spring and fall check ups.

Jeff has been here several times and he is the best! He's friendly and helpful. The main reason I use Broadley's is because of Jeff. He's the best plumber I know

Geoff came to turn the water back on after the winterizing and Walt was there to check the AC before using this season. Both were very professional, knowledgeable, and a pleasure to work with. They both called and told me the time they would be there and both were on time.I have always found Boadley's a company that is a pleasure to work with.

Jeff is the greatest. Competent. Trustworthy. Punctual. And always very thorough. I request him every year

Geoff and Ken did a great job replacing the broken house bib on our property. Job was done quick and very professional

Geof did an excellent job.I won't hesitate to use your service again .Thank you.

Geoff did a wonderful job of finding the leak (hidden in the wall). And repairing it! So thankful for him and his expertise! Thanks so much!!!

Broadley's Plumbing always gets the job done! Their technician Geoff was highly professional and made sure I was completely satisfied with the job before he left as well as clearly explained everything that transpired. Thank you for your great service!

Geoff is simply the best. Closes my house for the winter and opens it back up, checking all of the plumbing and giving me good advice on it. I always ask for him, and they are a great company!

I arrived home from a trip out of town on Friday evening March 5th, the temperature in my place was 49 degrees. Called Broadley's Saturday morning, within a couple of hours a Service Tech arrived. He said he could get it running but the system really is shot. Had an estimate on Sunday and was told it could be installed on Monday, March 8th. At my request the work was done on Tuesday. I left for work around 8:30 Tuesday morning with no heat and came home around 5:30 to a warm house.Very impressed with Broadley's prompt and professional service.

Had them replace our water pump. Prompt, professional service with a reasonable cost.

Jeff was very professional, friendly, and he did an awesome replacing my kitchen faucet and repairing my shower mixing valve. I would give Broadley's Plumbing and Heating my highest recommendation.

Very prompt and professional!

The tech that came out from Broadley's, Walt, was very thorough, courteous & respectful. I appreciated his expertise & his ability to answer all of my questions to help me better understand our heat pump system.

Jeff, Johnny and Yancy were really great!They explained everything they did. Very professional and their experience really made my feel confident I had choose the right company for the job. If I need plumbers in the future, I will call Broadley's.Thanks again Jeff, Johnny and Yancy!

THANK YOU Team BROADLEY's...... I wish all of the upgrades to our house was that easy! From the first phone call to Mark to discuss Tankless Hot Water Heater, to the final installation I knew we were in competent hand. I especially appreciated the follow-up to insure we were happy and we felt the job was done right.

Chris Coyle is amazing! Professional, competent, helpful and the best plumber we have used in south Jersey!!!

Excellent service, on time and extremely professional

Had a gas dryer installed by Geoff and Johnny. Discovered a leak in a gas line in the process, and they repaired it with no issues at all.Extremely nice and respectful people. Couldn't have been more pleased with the service or the individuals that performed it, and considering the added work, the price was very reasonable.I rarely write reviews but the service merited it. I would absolutely recommend them.

Check Out Our Latest Special!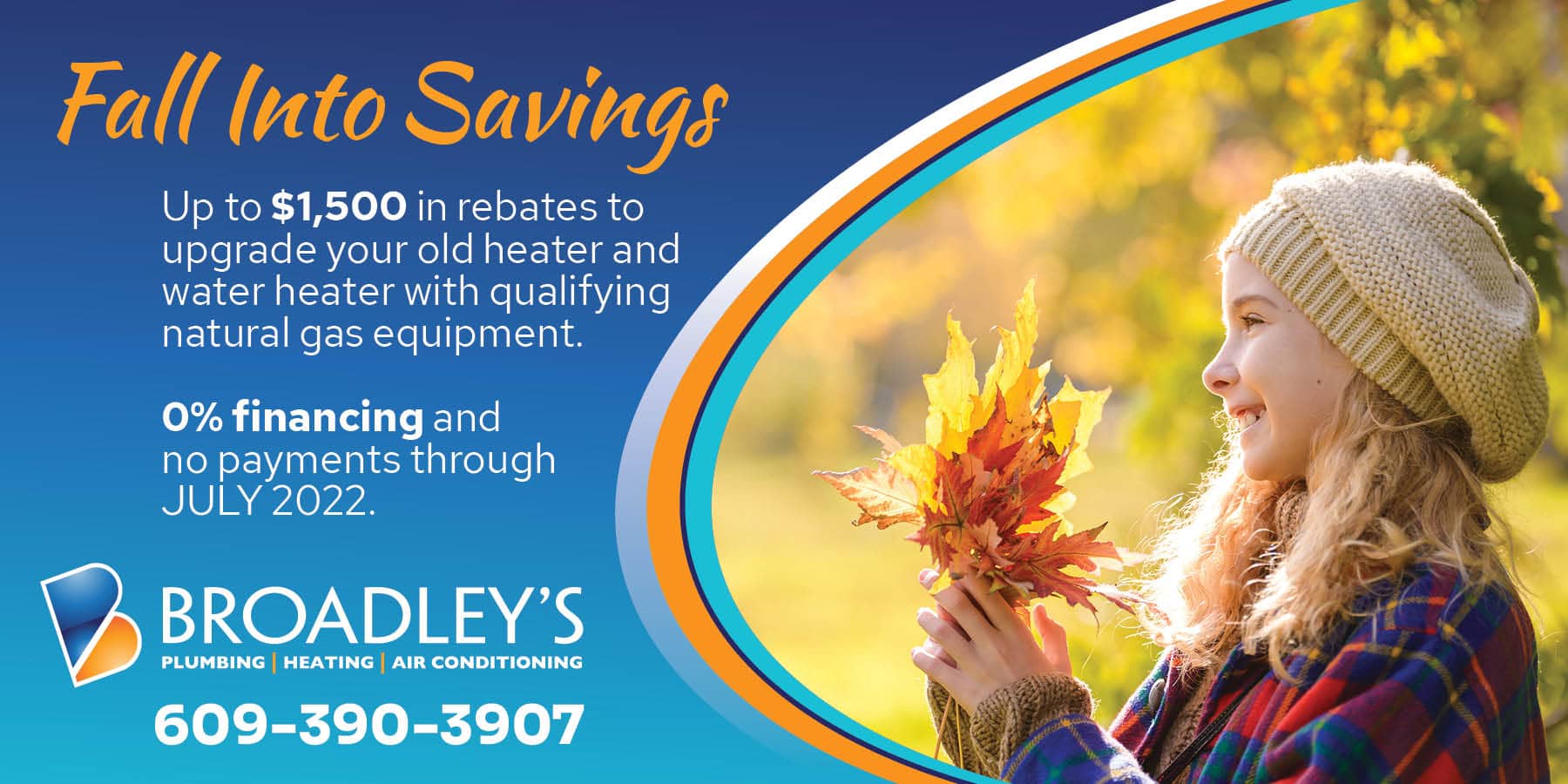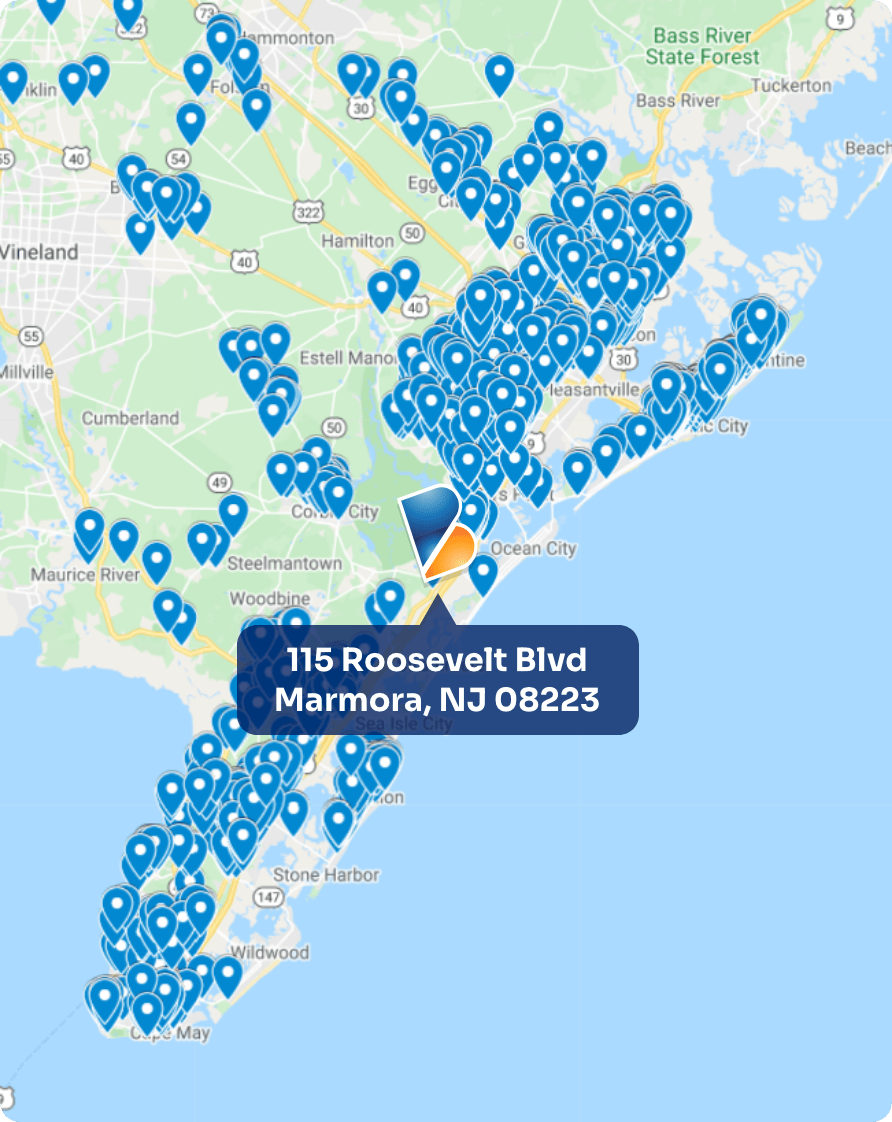 Proudly Serving the Following Areas:
Unsure if we service your area? Give us a call!
Proudly Serving the Following Areas:
Unsure if we service your area? Give us a call!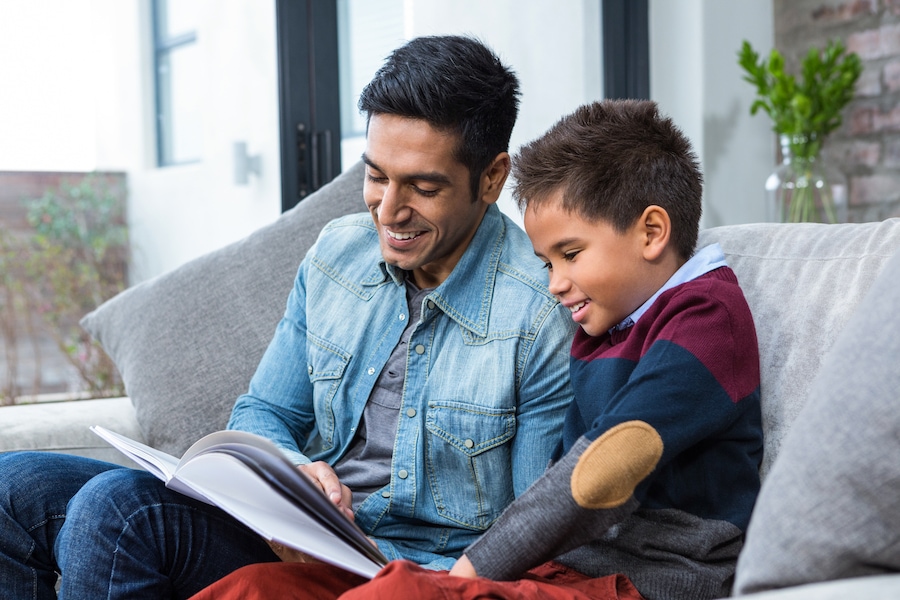 Imagine this winter, sitting in your Marmora home by the fire, looking out the window at the falling snowflakes while sipping your hot cocoa with marshmallows. Life is good. It is good, that is, until you hear the loud rush of water somewhere in your New Jersey home. 
Read More