Save your cash and finance your HVAC equipment purchase!
To make every new HVAC system more affordable, we offer a flexible financing solution to all of our commercial clients. We've teamed up with one of the premier equipment financing lenders in the market today, Marlin Capital Solutions, so you can procure the equipment you want through a financing plan that fits your budget.
With our program, you can finance up to $200,000 for your new HVAC system and budget for simple monthly payments. Through our financing partner, Broadley's allows you to get the equipment you need through a low monthly payment instead of paying upfront with a cash purchase. We offer Total Project Financing that bundles the equipment, installation, duct work, crane rental if needed, and even tax into one affordable payment.
Our financing program through Horizon Keystone, a Division of Marlin Capital Solutions,  makes the process simple and easy to apply.
Contact Broadley's today at 609.390.3907 and we will be happy to give you more information on our financing program designed just for your commercial needs.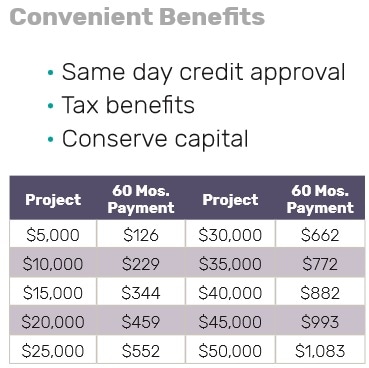 Sample monthly payment based on 60 month term. Rates vary based on credit.