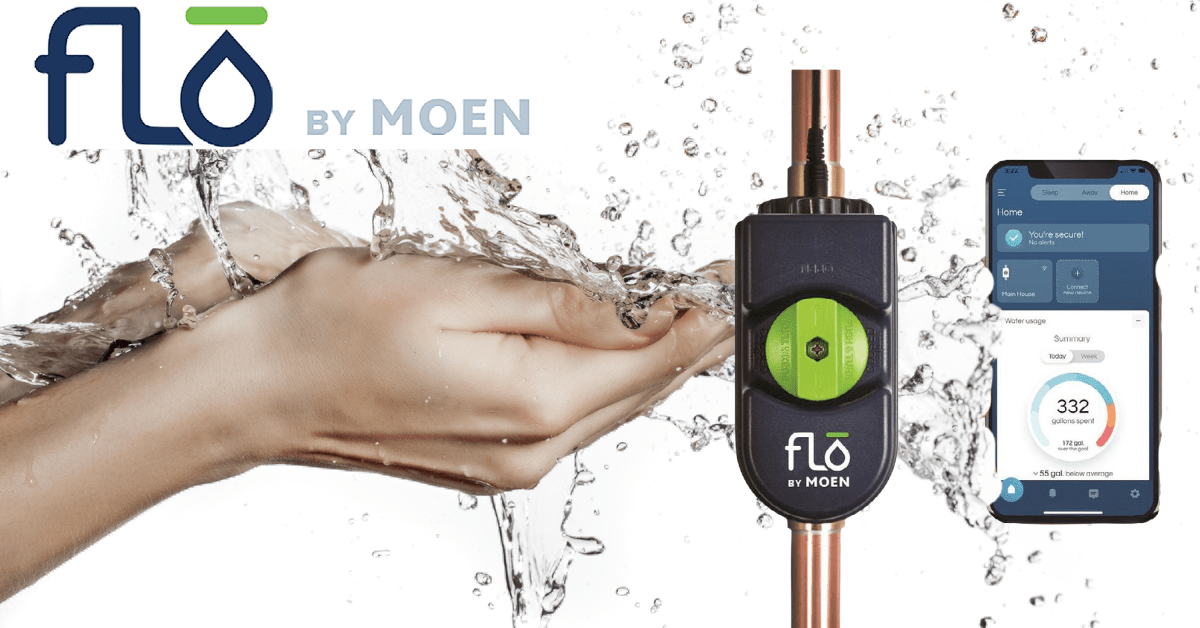 Flo Smart Water Monitor and Shutoff by Moen
The Flo Smart Water Monitor and Shutoff is a state of the art system designed to protect your home from leaks and water damage. This system monitors your water system 24/7 for any leaks or vulnerabilities. While this is happening, the Moen Smart Water Detector senses for moisture or leaks on the outside of your pipes. This could be anything from water leaks, to overflowing drains and appliance failures, or water related issues.
According to IProperty Management's data and research, the average home insurance claim for water damage is $11,098. That is a VERY costly problem to have. This system is designed to detect water problems as soon as they begin, and stop them before the damage becomes VERY costly. Even if insurance can reimburse you for damages, no one wants their home and belongings wrecked by water damage.
How Does It Work?
Flo by Moen is designed to detect problems and leaks in your water system, and stop them before they cause too much damage. The way these incidents are stopped is by shutting your water off once the problem is detected.
Because this system uses sensors for your water flow, and also detects water that may start to build in vulnerable areas, it can get ahead of A LOT of problems. This system has led to 96% decrease in water claim events, and a 71% decrease in the severity of the claims.
Once a leak or issue has been detected you are notified on your smart phone through the app. From there you can see what the issue is, and if you need to immediately take action.
This system uses sensors and patterns to detect irregularities in the water behavior. This smart system learns your water use habits, and will let you know if something seems off. For example, if you left a sink running by accident, your system will be able to detect that and let you know.
This is invaluable when you spring a leak and need to stop the water flow, ESPECIALLY if you aren't home at the time. The worst case scenario would be coming back to a house you haven't been at for a while only to find a pile of water.
Great For Vacation Homes
One of the reasons we love this for our community is the value of it for vacation homes. At certain times of the year, these homes are left unoccupied for days and even weeks. If the water hasn't been shut off, it could become an issue. It's one thing if a shore home is shut down for the season and all the appliances are turned off.
In many cases though, a shore home may still be in use, but less frequently. This means you still want all the appliances up and running, but they may go through longer periods of down time. This is where a system like the Flo by Moen will help you the most. You can still have your water working, but don't have to worry about a leak if you aren't there for a while.
In cases where you are renting your place, it allows you an extra layer of protection knowing that a silly mistake by a tenant isn't going to cause you unnecessary water damage.
Insurance Discounts
Installing the Flo by Moen system can qualify you for a discount on your insurance! Check with your provider and you may be eligible for a few bucks off when you install the Flo by Moen system. Insurance providers know you will suddenly be FAR less a risk for water damage, and therefore don't need as big of a premium to keep you insured.
Ready To Protect Your Home
Are you ready to protect your home from water damage? Give us a call at (609) 390-3907, or fill out the form below to contact us online. We can talk to you more about the Flo by Moen system, and help you keep your home protected all year long!