Do Heat Pumps Need Annual Maintenance? (Plus FAQs)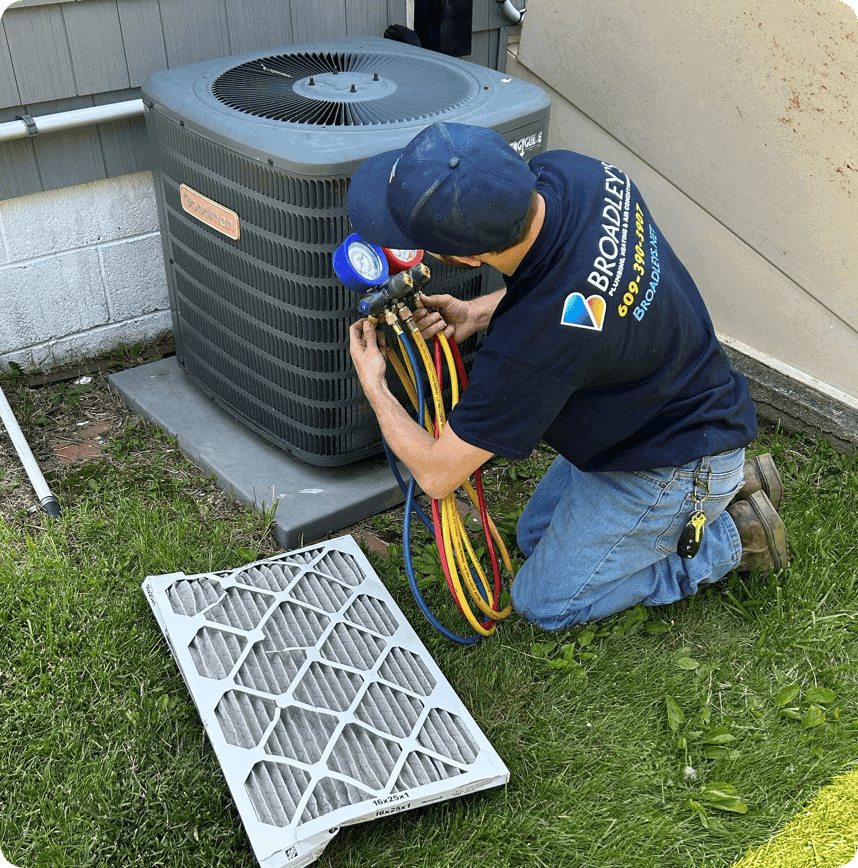 Every HVAC system should have annual maintenance at least once a year, preferably before the season it's used. "Do heat pumps need annual maintenance?" is one of the most frequently asked questions that I hear from clients. The answer is yes!
In my many years of installing and servicing all kinds of heating and cooling systems – I can comfortably tell you that it is always a good idea to maintain the major mechanical components in your home. I've seen heat pumps that have had maintenance performed yearly, and some that haven't. There's a noticeable difference.
In this article I will explain:
Why your heat pump needs maintenance
What an annual heat pump maintenance includes
What happens to your heat pump when you don't perform regular maintenance.
Broadley's Plumbing, Heating and Air Conditioning has been serving south Jersey since 1911. We know air conditioning and heating systems. From mini splits to air conditioners and hot water heaters – we have the expertise to help you enjoy and get the most out of your heating and air conditioning systems. Give us a call at (609) 390-3907, or click on the button below to contact us online.
Contact Us Online To Schedule Service
Why Do Heat Pumps Need Maintenance?
Your heat pump is a major component of your home, and it's integral to you and your family's comfort. If it's not working properly, you aren't going to feel comfortable in your home, but are still running up energy bills.
Because it is so important to your comfort, it is important that you service your heat pump on a regular basis. We recommend once before summer, and once before winter. Maintaining your regular heating maintenance schedule ensures maximum performance and helps to head off potential breakdowns and comfort issues.
Your heat pump is operating more than just one season, and is often used throughout most of the year – sometimes under extreme heat or cold.
Impact of Poor or No Heat Pump Maintenance
When you forget or choose not to service your heat pump as part of your regular home maintenance, system failures or deteriorations will occur.
Over time, duct leakage can occur, registers can get stuck impeding proper air flow. Other mechanical parts and accessories can experience wear and tear making your heat pump work harder to produce the desired result. This is going to drive your energy bills up higher than they should be.
Neglecting these issues can turn a simple repair into an expensive replacement. The end result is increased heat pump repair costs or replacement costs. In the end, without service you are costing yourself in energy bills, and also leading your HVAC system to an early replacement.
What Annual Heat Pump Maintenance Includes
An annual maintenance includes a completed system inspection and a diagnostic run through.
Your technician will check the air flow and replace the air filter. Then they will inspect and clean the belts, blower, coils and compressor as well as all controls, ducts, fan, fins, motors and outdoor coils associated with the outdoor unit. During this process, the thermostat is checked and calibrated for accuracy.
If they see anything that is looking like it needs to be replaced, they will let you know. This is how you get out in front of breakdowns and repairs.
Your technician should be licensed and qualified to handle refrigerants and electrical terminals.
Broadley's Family Comfort Plan
Four Benefits of Yearly Heat Pump Maintenance
Regular preventative maintenance is a way to protect your heat pump. It keeps your system operating efficiently, lasting as long as it should, and costing you as little as possible.
A regular tune up can help identify potential problems and system strain and wear and tear due obstructions or system fatigue.
In the long run, a regular tune up enhances energy efficiency and will prove to be an energy saver reducing your average cost of operation and providing you with seasonal comfort in spring, summer, fall, and winter.
Improved Heating and Cooling
A heat pump that is running in tip top shape will always provide improved heating and cooling that a system that is struggling to push air of low on coolant.
Lower Utility Costs
Because your HVAC system is running efficiently, it does not need to work as hard to obtain the desired results. That means lower utility costs.
Longer Lifespan
A heat pump or air conditioner that has been regularly maintained has been shown to have a longer lifespan than a system that has not simply because it doesn't need to work as hard!
Valid Warranty
Lastly, factory installed heat pumps come with a warranty. Check the requirements of your warranty. Most warranties require proof of regular maintenance by a professional.
Average Heat Pump Maintenance Cost Per Year
In my experience the average cost of annual heat pump maintenance is between $200 and $400 per year.
If you are interested in heat pump maintenance in Margate, NJ, or any of the South Jersey Shore, give us a call at (609) 390-3907, or contact us right here on our website.
FAQs
Here at Broadley's we like to keep our customers informed. So I have put together this brief FAQ section for you.
What is the lifespan of a heat pump?
On average a heat pump can last 15 years with proper maintenance. Without heat pump yearly maintenance, you will be lucky to get 10 years out of it.
How much is annual maintenance on a heat pump?
Annual heat pump maintenance cost is between $200 and $400 per year.
Can I clean my heat pump myself?
There are certain DIY tasks that a homeowner can perform – such as change filters, clear debris around the outside unit. A licensed technician is required to handle gasses such as fluorocarbons and some electrical work. We recommend using a professional.