How Much Does A Furnace Cost In South Jersey?
A new furnace in South Jersey costs from $5,000 to $15,000 installed. The average price is $7,000. Most come in under $10,000. It depends on:
Size Of The System
If You Also Get Central Air
Energy Efficiency
If You Have Ductwork Or Not
As you can see by the range of prices, you have quite a few options when it comes to your new furnace. And, you should take your time to review them all and choose what's right for your home, your family, and your budget.
Of course, you may feel crunched for time — especially if your old system broke down while it's cold out. Even still, you can run through all your options and make the best choice possible. Broadley's is here to help with that.
Read More: 6 HVAC Warning Signs (And What To Do About Them)
We've served Marmora, Avalon, Ocean City, and towns from Cape May up through Atlantic County for more than a century. Read through our guide here. Then, give us a call with any questions. We'll help you find the perfect system for your South Jersey Home.
Why You Should Replace Your Furnace And Air Conditioner Together
What Are BTU And Tonnage? Why Do They Matter?
Energy Efficiency Options For A New Heater
Heater and Central Air Pricing Options For South Jersey Homes
Heater Replacement In Cape May And Atlantic County, NJ
Why You Should Replace Your Furnace And Air Conditioner Together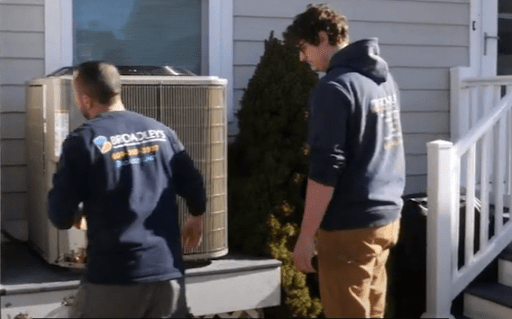 If you have central air but need a new heater, your best bet is to replace both at the same time. Although they operate at different times of the year, both units use components in the heater. Specifically, the fan blower, among other parts.
Read More: 4 Signs Your Home Needs A New Central Air Conditioner
Now, it is possible just to replace the heater. But, even if we go with the same brand and match it as best we can, there's no guarantee it's going to work as well as it should.
For starters, the AC will be older than the furnace. Then, you'll lose out on efficiency: A mismatched system is going to require more energy to do the job the way the old matched models used to.
There's always a chance this isn't a big deal to you. But, if you're about to pay extra for the most energy-efficient furnace you can get, then matching your AC is very important.
Read More: Why Is There Not Enough Air Coming Through The Vents?
What Are BTU And Tonnage? Why Do They Matter?
BTU, or British Thermal Units, is a measure of how much heat your furnace produces. "Tonnage" measures how much cooling you get from your air conditioning. When you're choosing a new central heating (and air conditioning) system, you need to know how much strength you need.
Not enough BTUs or tonnage and your home will never be warm or cool enough. But, you may not realize that you'll have the same problems with a system that's too strong: It won't work correctly, and you'll never get the temperatures you want.
And, determining the size you need is best left to the pros.
A certified HVAC contractor performs a careful load calculation. It takes into account your home's layout, square footage, windows, insulation, and more. Everything that can affect how much heating your home needs and how much it may lose due to drafts.
A very simple rule of thumb is to multiply your home's square footage by 30. That number is around the BTUs you'll need. Multiply by 35 for older homes.
Then, calculate one ton of cooling per 600 square feet of your house.
Again, however, those are very basic, round numbers to get you in the ballpark. Don't buy anything until you talk with your contractor.
Read More: Why You Can't Repair Or Replace A Heat Exchanger
Energy Efficiency Options For A New Heater
Next is efficiency. More expensive heaters will use less energy. So, they cost less upfront, but you will pay much less on your bills in the years to come. The same, of course, goes for air conditioners.
Let's focus just on heating for now: Most models are either 80 percent AFUE or 95 percent AFUE.
AFUE is "Annual Fuel Utilization Efficiency Ratio." Basically: an 80-percent system loses 20 perfect of the fuel it burns in exhaust instead of using it to heat your home. The 95-percent systems only lose five percent.
So, it's sort of a question of losing 20 cents on every dollar you spend on gas. Or only losing a nickel.
But the more efficient systems are much more expensive. So, if you don't have a large budget, you may opt for an 80-percent system.
Or, if you don't plan to live in your house for more than five years, pay less upfront because you won't stay there long enough for the long-term returns.
Heater and Central Air Pricing Options For South Jersey Homes
Now that you know the factors let's look at some basic pricing options for heaters and central air. Again, these are round numbers. Go over the specifics with your contractor. In general:
A 45,000-BTU furnace, 80-percent AFUE with two-ton cooling, and 13-SEER is around $6,000. The same BTU and tonnage at 95-percent AFUE and 16 SEER (which measures AC efficiency) is closer to $7.500.
If you're heating more than 3,000 square feet, then prices jump to $10,000 or $14,000, depending on efficiency. At that point, you may also want to consider ductless mini splits or dual systems to treat the entire house.
But, we can't stress this enough: These numbers are just to get you started. You may find a better price once your contractor walks you through your home's requirements and all your options. Or, you may discover that you need a different system than you initially thought.
Either way, we want you to be as knowledgeable as possible before you get into the conversation about purchasing a big-ticket appliance.
Read More: Cost Of A Mini Split Installation In South Jersey
Heater Replacement In Cape May And Atlantic County, NJ
If it's time for a new heater in your South Jersey home, click below or call Broadley's at (609) 525-4080 for your free consultation. Homeowners and businesses in Cape May and Atlantic County, NJ have relied on us for heater replacements since 1920. And, we're ready to help you, too.