Rooftop Mitsubishi Mini Split Installation in Ocean City, NJ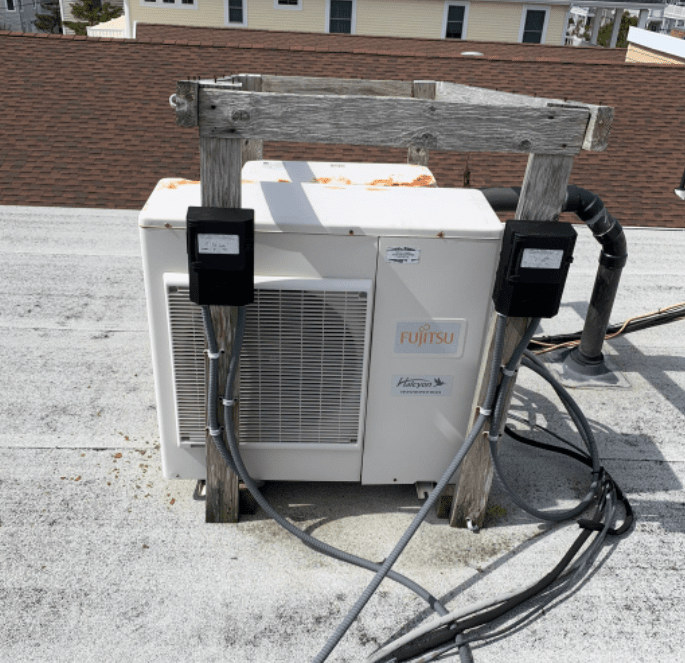 Mitsubishi Mini Split Provides Home Comfort Upgrade In Ocean City, NJ
Problem: The two condensers on an older, non-Mitsubishi four-hear ductless system were leaking refrigerant and needed replacement.
Solution: Replaced four indoor air units with Mitsubishi air handlers. Replaced two old condensers with one upgraded condenser. Used existing lineset for better-looking installation.
---
Replacing a heating and cooling system isn't exactly something a homeowner looks forward to doing. It's a big expense, and it usually comes after they've dealt with the frustration and costs of repairs as an older system broke down over time.
That's how our Ocean City, NJ condo owners felt in the spring. They knew their old mini split wouldn't last through another summer, let alone the following winter. 
So, when they called Broadley's about a new one, we did everything possible to make the process easy and ensure they got the most for their money.
In this case, they had two AC condensers on the roof that led to four air handlers inside. The problem was the outdoor units were leaking refrigerant. Due to the age of the system, it wasn't worth the cost to recharge it.
There was no way around replacing the old system. But, our homeowner made the best of the situation by upgrading to a Mitsubishi mini split. It had more features and sported better efficiency than his old brand.
And, we used as much of the existing system as we could to make the installation fast and easy while staying within his budget.
Talk To Broadley's About A Ductless System For Your Home
Rooftop Mini Split Installation In A Two-Story Condo
Even with four indoor air units and two outdoor condensers located on the roof of this Ocean City, NJ condo, we still finished this mini split installation in just three days.
Using A Smaller Outdoor Unit
First, we recommended a newer, single outdoor unit that would perform even better than the two condensers he had before. That meant less expense with less equipment.
And a faster install since we needed a crane to move the large, heavy units on and off the roof.
Using Existing Lineset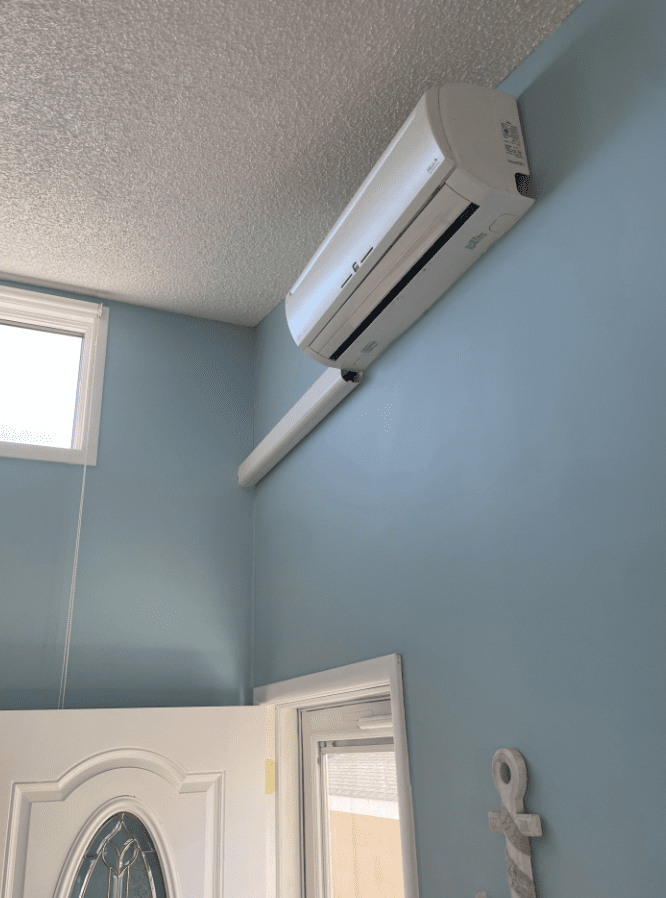 Next, we used many existing line sets that lead from the heat pump on the roof to the indoor units. Most of them were reusable, which cut down the time we needed to run everything.
Once we were done, our condo owners had a much better system than before! 
Benefits Of Upgrading To A Mitsubishi Mini Split
Our homeowners would get better comfort just by replacing an older system with a modern, more efficient model. And they get even more benefits by switching to Mitsubishi:
Better Air Circulation
More Temperature Control
New Warranty
Better Air Circulation
Mitsubishi is considered the leader in mini split technology, and the comfort their systems provide is what puts them at the top.
Take the new ceiling cassettes we installed, for instance. The new ones have more airflow patterns than the ones we replaced.
Instead of just pumping air out in one direction, each unit can circulate air from side to side or up and down in a sweeping pattern. This way, it eliminates any hot or cold spots that the old system couldn't reach.
Related: What Size Mini Split Do I Need For My Jersey Shore Home?
More Temperature Control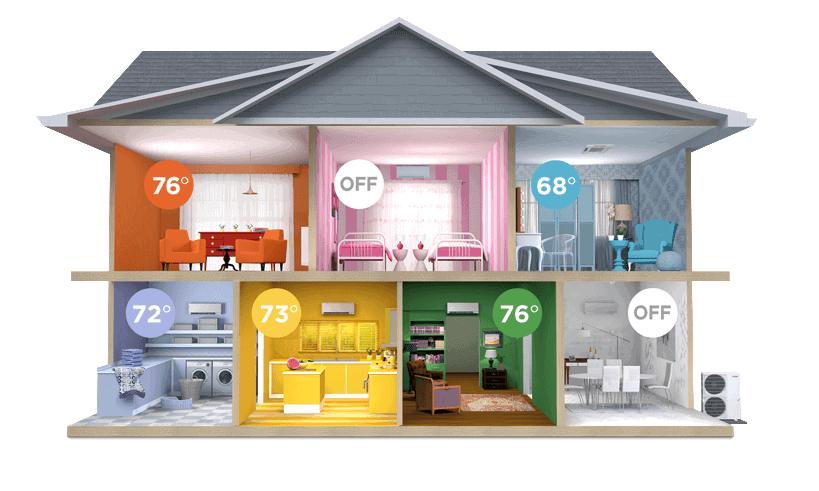 Next, we installed a Kumo Cloud in the living room. This way, our homeowners could control every single indoor unit from their phones and tablets.
One of the advantages of a mini split is that each air handler works individually. That way, every room gets the precise treatment it needs.
But, it also means you have to go from room to room and use a remote control to adjust the temperature. Sure, you can program changes in advance, but that's the only way to adjust settings on the fly. 
The Kumo Cloud from Mitsubishi also gives our homeowners the option of making schedules and changing settings from anywhere they have wi-fi or a mobile connection.
Related: Mini Split Upgrades The Heating And Cooling In An Ocean City, NJ Condo
New Warranty
Finally, a new HVAC system means a new warranty. That goes for any mini split, but Mitsubishi has one of the best guarantees in the business.
Most heating and cooling systems come with a five- or ten-year warranty. By contrast, the warranty for the mini split in this Ocean City, NJ condo is good for twelve years — much longer than the industry average.
Replacing an old mini split (or any heating and cooling system) can be frustrating and expensive. But, with the right equipment and the right team, it can be an easy process and an upgrade in comfort and energy efficiency.
Call Broadley's today for a free consultation if your older heat pump, mini split, or air conditioner shows signs of wear. We've been based in Marmora, NJ for more than a century and serve Cape May and Atlantic counties. Click below or call (609) 390-3907.