Ductless Mini Split Vs. Window Air Conditioners: Pros & Cons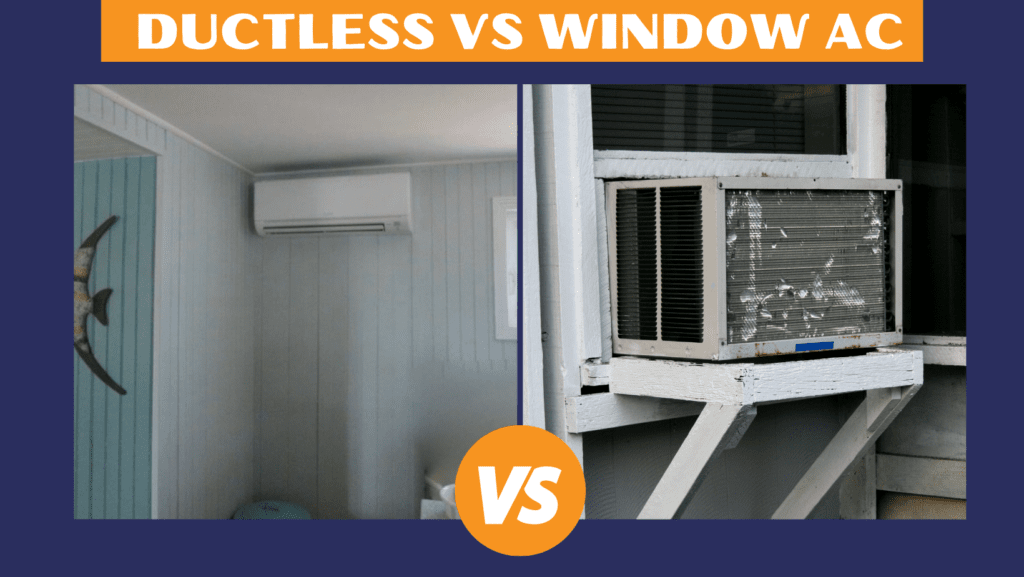 The Pros And Cons Of A Ductless Mini Split Vs. Window Air Conditioner
Should you stick with your window air conditioner for another hot South Jersey summer or take the leap and invest in a mini split air conditioner?
A mini split is a big purchase and requires work on your home to have it installed. But, going ductless offers plenty of benefits. And, for many people, those features outweigh any drawbacks.
We'll help you decide if a mini split is suitable for your South Jersey home or if you should stick to your tried-and-true window ACs. This article lists the pros and cons for each and then our conclusion if you're curious.
And, if you want to learn more about mini splits for South Jersey and shore homes, you're in the right place! Based in Marmora, Broadley's has served Cape May and Atlantic Counties for more than a century. Today, we specialize in ductless mini splits and other high-efficiency HVAC installations. 
Learn more about ductless mini splits
With that in mind, let's start with the basics.
What Is A Ductless Mini Split?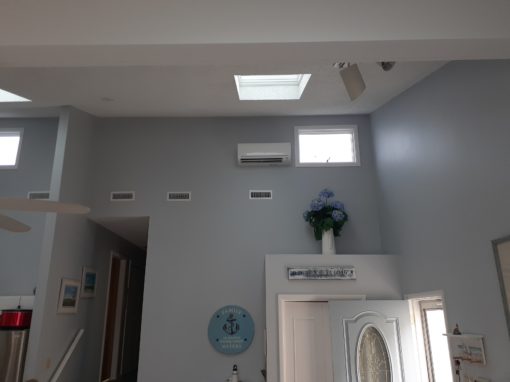 A ductless mini split is a heating and cooling system that combines an outdoor heat pump with air handlers in each room, or zone, you're treating. In the summer, the air handler in the room draws in the air around it, cools it, and recirculates it.
You can choose to have one air handler for a single zone. Or, connect up to eight air handlers to a heat pump for a multi-zone setup.
That's the basics of a mini split. You can read more about how they work and what they look like in our other articles.
Now, let's compare them to the more well-known AC option for a single room. 
Window Air Conditioner Pros And Cons
Window air conditioners have been around for decades. They've been the go-to for homes without ductwork, especially when one or two rooms need extra cooling. Are they still worth it? 
Pros
Simplicity and cost are major benefits to these units.
Inexpensive To Buy
You may find high-end window ACs for $250 or $300. But, most are around $150. That makes them exceptionally affordable, and you can buy more than one if you want to cool multiple rooms.
That portability is especially beneficial for Victorian homes with many rooms that you don't use a lot. Putting window ACs in the areas you're in all the time is more cost-effective than central air. 
No Installation Necessary
All you have to do is mount the unit in a window, secure it, and plug it in. There's no expensive installation or workers tearing or drilling through walls to connect anything. 
Cons
As simple as these units are, they've always had some drawbacks.
Read More; How To Heat And Cool Third-Floor Rooms
Loud And Expensive To Run
You'll pay very little at the cash register to start cooling a room or two with a window AC. But, your electric bill will skyrocket. These units use a lot of electricity — often enough to erase any savings you feel you've gotten by going with an inexpensive solution.
Takes Up Window Space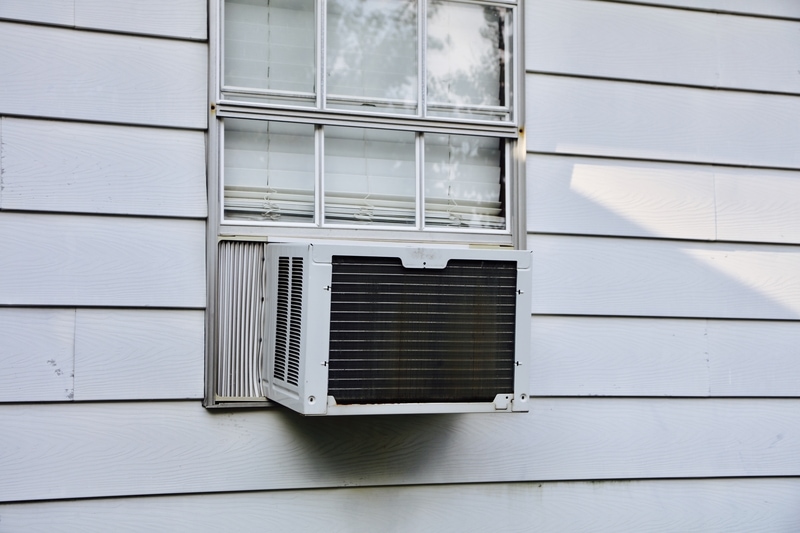 Sure, there's no installation. But, there's also the lack of sunlight with a big box taking up half the window. That's not to mention the time to lug each unit out of storage, clean it, and mount it for the season. 
Noisy When Running
Some people find the white noise of an AC soothing when they're going to sleep. Others are bothered by it. And, nobody likes turning up the TV or talking louder with a "window rattler" making a ruckus in the living room or dining room.
Ductless Mini Split: Pros And Cons
Mini splits are becoming more popular, even though they also have some drawbacks.
Pros
In some ways, a ductless system does everything a window AC does and more. 
Quiet Operation
Ductless air handlers are whisper-quiet. Even at full blast., they're never louder than leaves rustling outside. And, most of the time, they run in a low power mode that you don't hear at all. 
Heating And Cooling
The same rooms that are too hot in the summer are often too cold in the winter. Depending on the heat pump you choose, your mini split can supplement your heating system for a little extra warmth where you need it. Or, it can work on its own to keep you warm all winter.
Read More: Mini Splits Vs. Baseboard Heaters 
Lower Electric Bill
A mini split uses a tiny fraction of the power that a window AC or even central air would use, whether heating or cooling. That means excellent comfort all summer without those hikes on your electric bill.
Cons
As great as they are, mini splits aren't perfect.
More Expensive
The opposite of window ACs: Ductless systems cost much less to run but cost way more upfront. Expect to pay upwards of $3,000 for a single-zone system, even if you'll recoup most of that money through lower energy bills.
Installation
Installing a mini split is simple and non-invasive. That makes them especially attractive for older homes where you don't want to ruin the look and feel by running ductwork throughout the house and into each room.
But, as easy as it is, and with as little room as it takes up, it's still more of a project than mounting a portable AC in your window for a few months.
Read More: Mini Split Replaces Furnace And Window ACs In Cape May [Case Study]
Our Conclusion
When it comes to performance, you can't beat a mini split. It offers better, quiet, and cheaper cooling than a window AC — and some heating as well! There's a lot to love there. We may be biased because we specialize in these systems. But, then again, we specialize in them for a reason: They do a fantastic job.
But, the price tag can be a dealbreaker. For some people, it's just not in the budget. Or, they get by just as well with a few window ACs.
If the upfront cost works for you, we recommend a mini split over window air conditioners. 
Mini Split Installation In Avalon, NJ
Broadley's specializes in mini split installations for homes and businesses in Avalon, NJ, other shore points, and inland towns throughout Cape May and Atlantic counties. Ready to learn more? Click on the button below or call us at 609-390-3907.