R22 Freon And R410A Phaseouts For NJ Air Conditioners [2022]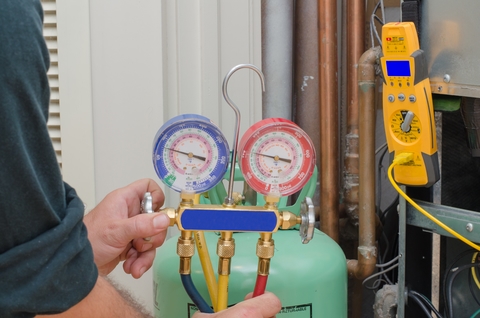 R22 Freon & R410A Phaseouts: New Jersey AC Replacement Guide For 2022
If your central air is more than ten years old and has a significant coolant leak, you may need a new air conditioner for your home or business in New Jersey. That's because R22 Freon, the coolant those older systems used, is discontinued.
Additionally, the production of R410A Puron, its replacement, is being phased out slowly starting this year.
These changes are part of a nearly 40-year international effort to stop using chemicals that deplete the ozone layer. After the Montreal Protocol treaty in 1987, the U.S. and other countries began eliminating the use and production of various substances in air conditioners and other appliances.
That trend continues as HVAC manufacturers and other industries adopt more environmentally-sound practices and materials. And as more harmful ones get phased out.
A quick takeaway is that you will never need to buy a new central air system because the one you have now uses a coolant that's been phased out, has seen mandated decreases in production, or is outright banned.
But, if your system has a leak and needs to be recharged, you may need to replace it. That happens if the coolant it uses is now too expensive to justify the cost or isn't available anymore — especially with R22.
Read More: Why Is My Air Conditioner Not Cooling The House?
Broadley's updated this article in April of 2022 with the latest information from the EPA and on-the-ground reports from our in-house techs and service professionals. We'll explain:
Why And When R22 Was Discontinued
How To Know If Your AC Uses R22
Why And When R410A Will Be Discontinued
How To Tell If Your AC Uses R22 Or R410A
When You Need To Replace Your Air Conditioner
How To Avoid An Air Conditioner Replacement This Summer
And, of course, don't wait to call your HVAC company if your AC shows any signs of a problem! If you purchased it before 2010, you want to address even a minor issue right away.
Otherwise, if it gets worse, we may not be able to repair the system at all.
Broadley's has handled air conditioner repair and replacements in Marmora, Avalon, Ocean City, Upper Township, and other towns in Cape May and Atlantic counties for more than 100 years.
Click below or call us at (609) 390-3907 with any concerns you have about the HVAC system in your home.
Why And When R22 Was Discontinued
You've likely heard about the R22, or freon, phaseout. The government has been slowly phasing out freon as the coolant in central air conditioners due to its adverse environmental effects.
Here's the timeline:
Starting in 1996, manufacturers used either R22 or R410A. Both were in production.
Starting in 2010, the EPA required all new ACs to use R410A.
Also in 2010, the production of R22 began tapering off.
In 2020, by law, all R22 production in the U.S. ceased, and no company can import it.
R22 Freon Update For 2022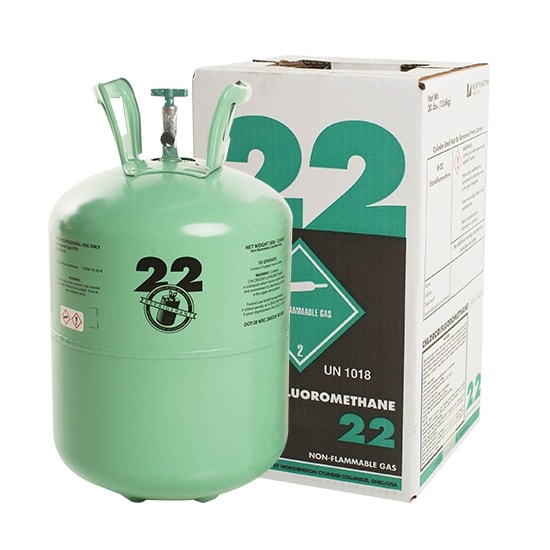 R22 Freon is still available in April 2022. But, it's very expensive and now costs up to $1,300 for a 25-pound jug wholesale. That's up from $595 per jug in April 2021 and then $910 in August 2021.
And, consider that most central air systems require an average of five pounds to recharge. In some cases, especially for larger homes or ACs with longer line sets, you could need up to 10 pounds.
You're also paying for the labor to recharge the system and other repairs to prevent another leak.
Read More: What Does New Central Air Conditioning Cost In New Jersey?
Why And When R410a Will Be Discontinued
Like R22, R410A Puron also depletes the ozone layer. While it's not as harmful as Freon, it still poses an environmental risk. As a result, the EPA issued a final rule announcing a phaseout for R410A that begins this year.
The mandate was part of the AIM (American Innovation and Manufacturing) Act that Congress passed as part of the Consolidated Appropriations Act in December 2020.
Overall, the strategy is to reduce the production of R410A and similar chemicals by 85 percent over the next 15 years.
R410 Puron Update For 2022
So far, we know that R410A Puron production dropped by ten percent starting in January 2022. It will no longer be used in new systems in 2023. Then, we'll see a significant supply dip starting in 2024, when production levels must reduce by 60 percent of the 2021 output.
Already, prices are rising fast: In April 2021, the wholesale cost for a 25-gallon jug of R410A was around $90. It jumped to $370 by August of last year, and now in April 2022, it's already $445. 
How To Tell If Your AC Uses R22 Or R410A
Four ways to tell if your AC uses R22 or R410A are:
Check the manufacturing date
Check the installation date
Look up manufacturer specifications
Check with your HVAC contractor
If you installed your AC after 2010, it uses R410A.
If it was sold or installed between 1996 and 2009, it could use R22 or R410A. You'll need to keep looking for more information.
If you installed it before 1996, you've done a great job maintaining it! But, it uses R22 or another discontinued coolant that's no longer available.
If the dates don't help, look up the model online or call the manufacturer. You should find a nameplate on the unit to give you that information.
Finally, check with your HVAC contractor if you've gotten regular service. They should have a record based on their previous work with your system.
When You Need To Replace Your Air Conditioner
If your old AC is still working, you don't have to replace it. If there's a problem, you can likely still have it repaired if there's no coolant leak. However, we strongly advise against recharging a system with R22 due to the high cost for an older system.
We often recommend replacement when a system is more than a decade old and has a significant problem. The cost to fix it is probably not worth it when you'll need a new system soon anyway.
While spending all that money isn't appealing, consider that you may save money in the long run with an early AC replacement. And, there are benefits to off-season installations if you can make it through the summer or address the problem early in the year. 
Read More: Why You Should Order Your AC Replacement This Winter
How To Avoid An Air Conditioner Replacement This Summer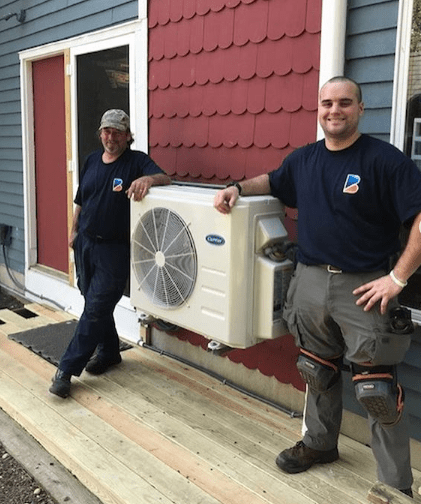 If your air conditioner is more than a decade old, then the best way to avoid needing to replace it this summer is by getting a tune-up and inspection before anything goes wrong.
Annual maintenance is essential for any HVAC system. Think of it as getting the oil changed on your car to ensure it runs well for years to come. With heating and cooling, a tune-up is fast, easy, and inexpensive.
Read More: Keep Your Shore Home Safe This Winter With AN HVAC Maintenance Contract
With a single phone call, you can get a tech to inspect your entire system. They'll clean it, check all the connections, and replace anything that's worn out or broken.
It takes about an hour and costs around $100. This is critical for older systems: Catching a small problem before it causes a leak can buy you an extra season or two.
For more than a century, Broadley's has provided AC repair, maintenance, and replacement in South Jersey towns from Cape May up through Atlantic County. You can call us any time for air conditioner service or repair. We're also available 24/7 for emergency service.